Caleb O'Hara
The Red Shoe REALTOR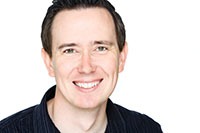 Meet Caleb O'Hara, a real estate expert with over two decades of experience in service-driven industries. From his early beginnings at Xerox when he was just fifteen, Caleb has been obsessed with always leveling up his skills and becoming the absolute best in his field.

Caleb is a leader in his local real estate market. He has a deep desire to serve and help others, which is why he found his calling in the real estate industry. Real estate is all about the people, and Caleb thrives on educating, helping, and fighting for his clients. He's not in it for the transaction - he's in it for the relationship. Caleb operates from a purely relational perspective, which means that he's not just looking to close deals - he's looking to create lifelong connections.

And you know what? It's working. The majority of Caleb's new clients come from referrals from his past clients. But here's the best part - Caleb is deeply committed to helping everyone around him continue moving forward, both personally and professionally. And he's not just talking the talk - he's walking the walk. Caleb values creating a life for his family and helping his clients create a life for theirs.

So if you're looking for a real estate professional who's in it to make a real difference in your life, then look no further than Caleb. Choosing him as your partner means gaining a dedicated ally who is fully invested in your real estate success.